Harley Davidson in Santiago de Chile and a Movie Short Film Poster in Prairie du Sac by Caleb Pearson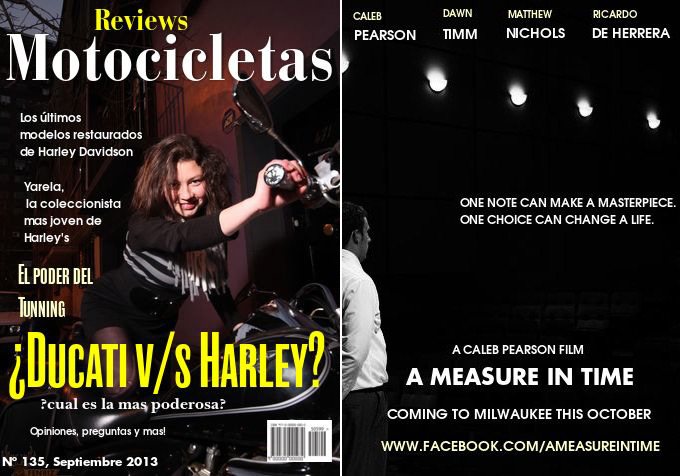 Good day Posterini friends! An exciting few weeks full of amazing creativity and posters here in Posterini. Let's reflect on some of the latest creations around the world.
From Santiago de Chile, Yarela, that describes herself as a young collector of Harleys, brings us a great magazine cover and poster. Design is excellent, contrast as well.
The background photo looks at the audience with a smile and lots of confidence, and is located in the perfect spot, no interference of any kind with the text around it.
The title of the main article is bold and clear: Ducati vs Harley? It opens a question that awakens our curiosity. Which one is the most powerful? The subtitle further invites us to reflect and ponder.
Above the title we find other attractive points like the power of tunning. It's clear that this magazine is going to be very interesting for the lovers of motorcycles.
The magazine itself is called Motorcycle reviews and it also covers the latest restoration news about Harley models. Great poster Yarela and best wishes with your magazine.
We also review a poster by Caleb Pearson. We love films and movie posters,  for both feature and shorts. In this case, Caleb brings us a very nice short film poster for his production titled "A measure in Time".  Caleb lists the location as Prairie du Sac / United States, and the poster tells us that the production is coming to Milwaukee this October. In the production's cast we find Ricardo de Herrera, Matthew Nichols, Dawn Timm and Caleb as well.
The design is minimalist  and simple. Very effective. The character on the left and the vast space in front of him immediately connect perfectly with the title of the film and the central phrase located in the middle of the poster. The phrase says: "One note can make a masterpiece, One choice can change a life". Great phrases indeed. The design of the poster is excellent because you can almost feel this character staring at the choices in front of him, reflecting on each of those future steps, each of them a note that can become a masterpiece, each of those having the potential to change a life.
Caleb tells us: "A short film about life's choices, and in life, we make our own masterpieces."
We make our own masterpieces, how powerful, right? Congratulations for a great poster and best wishes for your production Caleb.